product feature spotlight
MYCELIUM FIRST
What makes GUS's award winning design so unique is a focus on regulating the mushroom's mycelium. The vessel houses only the fruiting block which contains the mycelium and the fruiting bodies of the mushrooms emerge from the container. The low-fire ceramic material naturally regulates the mycelium's temperature, and moisture with added porosity that offers a tiny amount of passive airflow.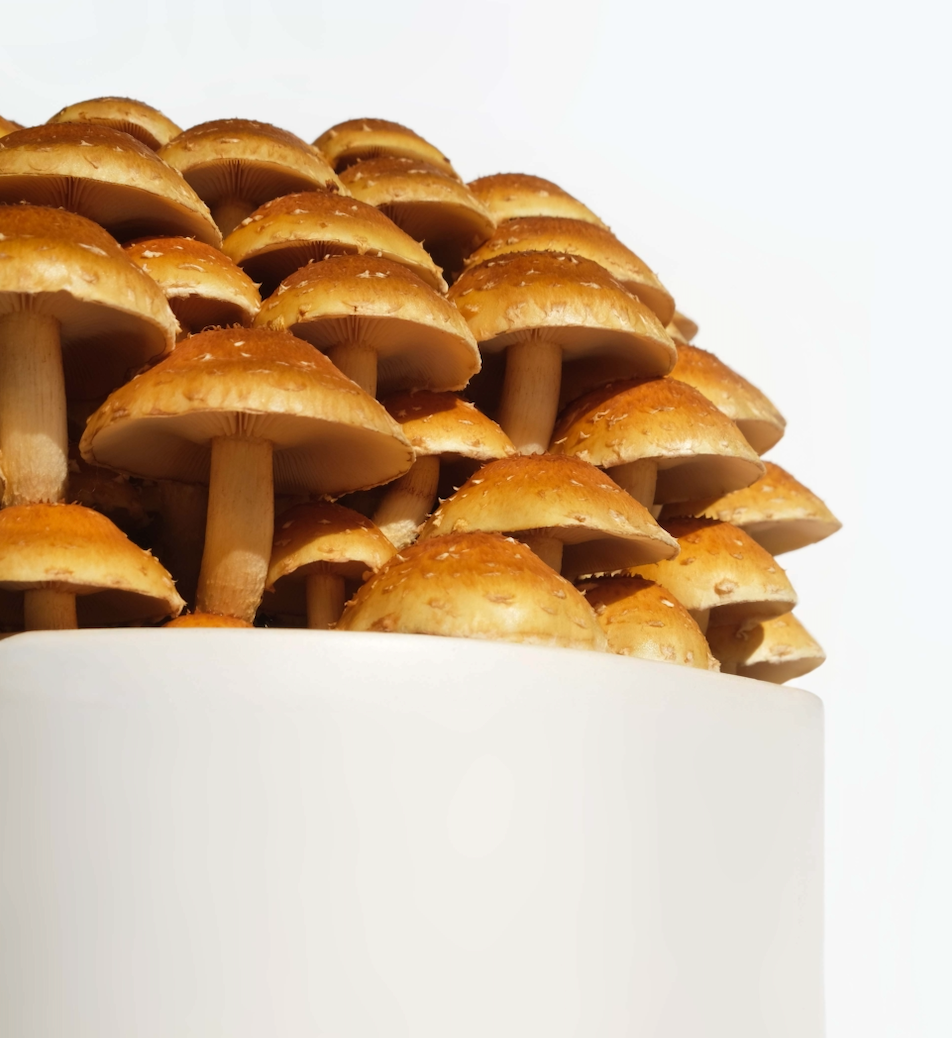 mycology meets design
With a specialized, patent pending design, GUS is an elegant object packed with science driven features that will make your mushrooms thrive right at home.
EXPLORE ALL FEATURES

THE SCIENCE OF CERAMIC

We chose to make GUS in a low-fire ceramic for its natural breathability, ability to maintain moisture and regulate temperature. Mycelium, commonly thought of as the root system, is the primary part of the fungi organism. Our design is focussed on keeping the mycelium within GUS, cool and cozy.

SPRAY + GROW

GUS is designed to grow specialty mushroom varieties that are easy to care for, with light misting a few times a day for best results. Mushrooms grow rapidly and can be harvested in a matter of days after they begin to take shape as pins or primordia (mycology speak for baby mushrooms).

MODULAR STACKING DESIGN

GUS's convenient nesting design maximizes countertop space. Collect multiple GUS to build a vertical mushroom farm and grow a variety of mushrooms at once. GUS stacks are very sturdy. We recommend stacking up to 3 high.

GROW BLOCK COMPATIBILITY

Each GUS vessel holds a mushroom grow block (fruiting block) which can be ordered online or with a little DIY spirit, created at home. We recommend using a 5lb size grow block (sold separately).

TOP + SIDE FRUITING MODES

GUS's design is modular and supports growing for both for top fruiting and side fruiting mushrooms. Why is this important? While some mushrooms such as many oyster varieties will thrive growing in either direction, others have a preference. Top fruiting lids will be available as an additional accessory in 2024.

INTERCHANGABLE LIDS

We will be launching additional lid accessories that allow for top fruiting with unique shaped openings suited for a range of top-fruiting mushrooms. The base GUS planter comes with a primary lid that acts as a cover when GUS is being used for side fruiting.
Rich text
Use this text to share information about your brand with your customers. Describe a product, share announcements, or welcome customers to your store.